Concert film performance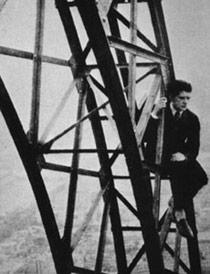 « Paris qui dort » ("While Paris Sleeps", 1923) is the story of a sleeping city.
One early morning the keeper of the Eiffel Tower discovers the city in a state of suspended animation ... a journey through time and space directed by René Clair.
In 2005 Isabelle Poulain, accompanied by flute and cello, assembled and played background music from works by Joplin, Kreisler, Debussy, Weber and Villa-Lobos and Satie to create a musical and cinematographic spectacle which is always warmly appreciated both in France and abroad.
Web site ww.cinéconcert.info