"Elles et LUI…
A sentimental and lyrical journey"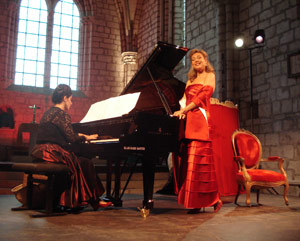 After their partnership in the "Voix Humaine" in 2009, Isabelle Poulain and soprano Raphaëlle Farman arranged this programme together. They take us to Italy, Austria and France, accompanied by Verdi, Rossini, Puccini, Mozart, Schubert, Strauss, Offenbach, Bizet and others, for a few moments of pure musical fantasy.
"Two beloved friends meet after many years and reminisce about a trip to Europe that they made together.... a tourist trip, certainly, but mostly a romantic and humorous pretext to meet HIM!"